HELENSVILLE'S BEST KEPT

SECRET
JOIN OUR FRIENDLY COMMUNITY TODAY
The standard joining fee of $60 is waived during this promotional period.
$30 for the first 30 days of membership

Normal membership fees applicable following the promotional period.
Complete the form to get more information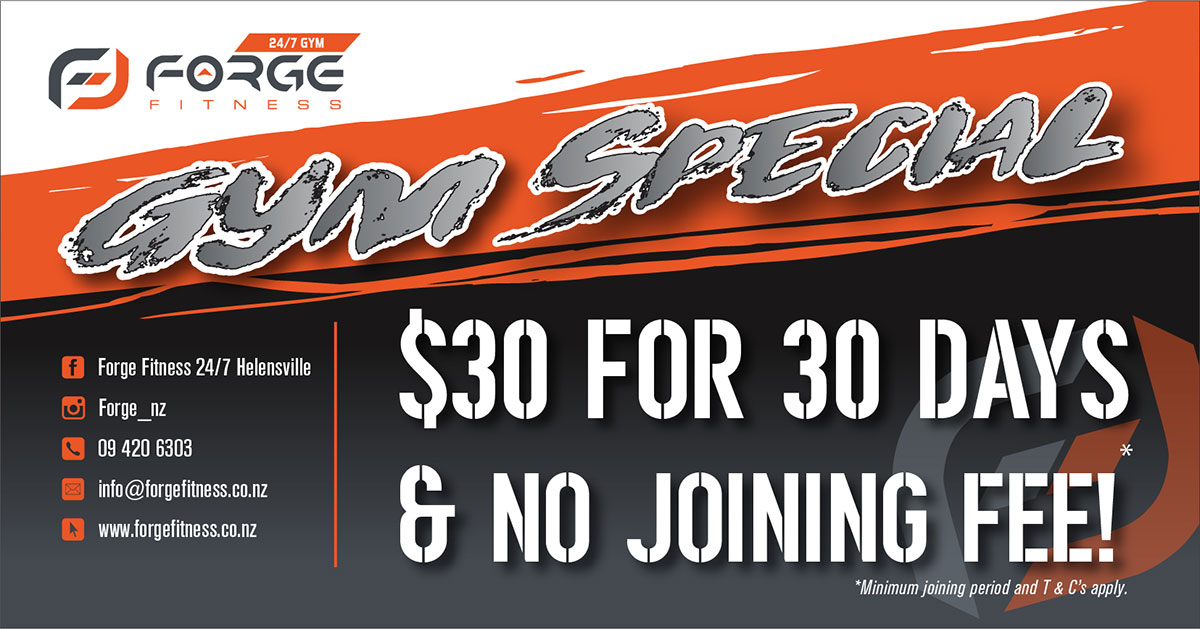 Offer expires 19 November 2023
Transform Your Body
We have 21 high-end Life Fitness & Hammer Strength resistance machines recently purchased as part of a major upgrade and renovation of the gym. We have a wide range of strength gear and accessories to suit any exercise programme or fitness level.
Our Life Fitness SYNRGY 360 System is yet another great feature here at Forge Fitness. It includes a number of stations including TRX bands, a boxing bag & gloves, a plyometric jump platform and adjustable dips, medicine balls and resistance bands.
Also included in our strength training area are:
– Dumbbells ranging from 1 – 45kg
– Barbells (including a 15kg women's barbell)
– EZ curl barbells ranging from 10 – 45kg
– Hammer Strength squat rack
– Hammer Strength power cage
– Smith Machine
– 4 way cable machine
– Kettlebells up to 32kg
– Landmines
– Hex/trap bar
GET MORE INFORMATION
Cardio Equipment
There's plenty of cardio equipment to get your heart pumping with treadmills, bikes, rowing machines, elliptical cross trainers and Arc Trainers too. The Arc Trainers are a particular favourite for many of our members due to the fact they have in-built fans – perfect for those summer workouts!
On the mezzanine floor we have a dedicated stretching and core studio for a more private training session. This is a quieter space to workout away from the hustle and bustle. We have plenty of mats, dumbbells, steps, weight bags, resistance bands and other training accessories up on our second floor to add variety to your workouts.
GET MORE INFORMATION
Contact us Today
If you have any questions about our gym and what we can do for you then don't hesitate to get in touch today.  Drop us a line via our contact form, give us a call or pop in to see us during our staffed hours. Come and meet our friendly, professional and above all dedicated staff who are more than willing to help you begin your fitness journey and forge a new you.
Please fill out the contact form below
1/79 Mill Road, Helensville, Auckland
Members have access to the gym 24 hours a day, 365 days a year.  Staffed/Office hours are:
MONDAY-FRIDAY
9.00am – 12 Noon & 3.00pm – 6.00pm
SATURDAY
9.00am – 1.00pm
OFFICE CLOSED SUNDAYS & PUBLIC HOLIDAYS